WE APOLOGIZE BUT THE DECEMBER FAIRE HAS BEEN CANCELLED!!

Next Faire Date

Sunday, Jan 01 2023
For information call 510-522-7500


1st Sunday, every Month

Bring the family, free admission for all children under 12 years of age with a parent.


VIP Shopping
6:00 am - 7:30 am
$20.00
Early Buy
7:30 am - 9:00 am
$15.00
Morning
9:00 am - 12:00 pm
$10.00
Afternoon
12:00 am - 3:00 pm
$5.00
No admittance after 3:00 PM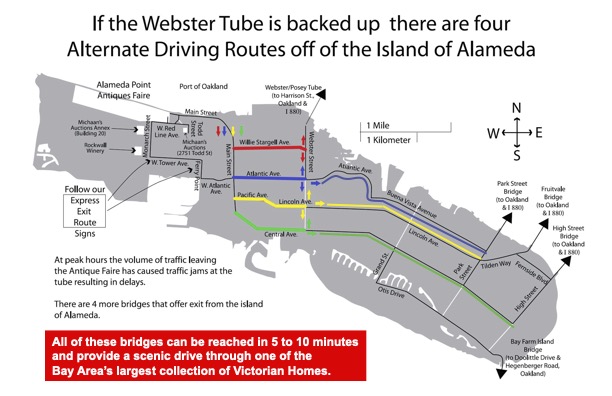 Our Next Faire Date is January 1, 2023!
We are cancelling the December Faire altogether. There will be flooding on the field after Saturday's rain and conditions in general look unsafe.

We hope to see you at our next Faire on Jan 1, 2023! Have a wonderful holiday season!

Warmest regards from the staff at Antiques By The Bay
Masks are recommended but are not required. Wear them at your discretion.
Looking forward to seeing you at the show,
Allen Michaan
---
The Alameda Point Antiques Faire is the largest antiques show in Northern California. Held on the 1st Sunday of every month, the Faire boasts over 800 Dealer booths. All items are 20 years old or older. Our faire is the ultimate place to shop for vintage and antique home decorations, clothing, furniture, jewelry, art, pottery, books & collectibles.
Parking is FREE. Our shuttle will be operating between 8:30 am and 3:30 pm to shuttle customers from the parking lot to the Faire Entrance, with occasional stops at the Ferry Building on Main Street.
We are in a Wildlife Sanctuary and pets are NOT allowed per our Use Permit. Service Dogs are exempt from this rule, but comfort dogs are not.
---
TRIBUTE TO DEALERS WHO HAVE PASSED THIS YEAR
Some of you have been attending the Antiques Faire for many years and have come to know our dealers. Customers have requested that we let them know when someone in our dealer family is no longer with us. With that in mind, we are creating a space to pay our respects to these dealers and their families and to let you all know they have passed. We are starting with 2022 but if anyone is looking for someone they have not seen since 2019, before COVID, please let us know.
We are very said to report that we lost these long time sellers this year.
Evangelina Vargas sold in booth Q14 for years. She had been sick so not able to sell at our Faire since 2017. She passed away during 2020.
Sandy Smith joined our show in 2013 and sold booth F05. We lost her in January of this year.

Roy Dieckman was one of our first 300 vendors who opened the show with us we in 1998. He sold in booths B 4-5-6. Roy passed in January;
John Thompson sold in various booths in the back rows and was with us for over 12 years. John died in February.
Rey Mapalo, who also sold in various booths in the back is another one of the original 300 vendors who have been with us since the show opened. Rey passed right before the March show.
Buppa Borkenhagen passed 3/25/22. Buppa is anothr of our longtime sellers who sold in Booth P09 since the beginning of our show.
Steve Parton died unexpectedly at the end of March. He joined our show at the end of 2011 and sold in as many as 3 or 4 booths in recent years. Steve preferred the back of the show.
James Tatton spent his last day selling at the July 3rd show. He went home that night and passed away unexpectedly. James started selling in Nov. '21 in various booths at the show.
Coco Reichborn's brother Fredric, died of a massive stroke on September 27. Fred worked with Coco in her booths at the show and many of you know him. We are deeply saddened by this tragic and unexpected loss. Our hearts are with Coco and her family.
Our condolences go out to their families. They will be missed.
---
Follow us on Instagram @AlamedaAntiquesFaire
Like us on Facebook.com/AlamedaPointAntiquesFaire
---
We are proud to be named one of America's Best Flea Markets by Architectural Digest online. (Click to view the article).
---
PROTECT YOUR TENTS FROM DISASTER WITH PROPER WEIGHTS. (click to view the tent disaster).
A freak wind event outside the Rose Bowl sent pop-up tents and debris circling violently into the air.
---
NOTICE TO ALAMEDA POINT ANTIQUES FAIRE CUSTOMERS: There is often active filming occurring at this event. By entering, you agree that your image may appear in print, TV, Internet or motion pictures.
---
Antique's Faire Address: 3900 Main Street, Alameda, CA 94501

Contact Antiques By The Bay, Inc.
Office:

2701 Monarch St., Alameda, CA 94501 Phone 510-522-7500 Fax 888-500-1805
Click here to email us
Mailing address:
Antiques By The Bay, Inc., PO Box 430, Alameda, CA 94501
---
---