Romantic and a bit racy: 1920′s style lace and shine dazzle for a classy showgirl finish.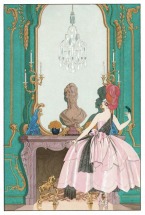 Be a modern flapper with all that razzle dazzle on the runways now. Glitz and after dark drama command center stage this fall. Designers like Anna Sui and Phillip Lim had stand out sequined flapper dresses in their collections to make any woman the belle of the ball. The Jazz Age brought hemlines up to the knee by 1925 and eliminated the waistline making the silhouette loose and tubular. The perfect frock for the dance floor. You can buy an original deco dress at the Alameda Point Vintage Fashion Faire and own a piece of history with embellishment and lavish detail.  It's worth the tassel! Get fringed out. Feathers, silk satin lingerie and glowing glam gems will be in abundance and will make your inner showgirl shine.
---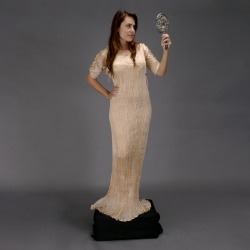 Poiret and Fortuny were among the most well-known designers of the period before World War I. Fortuny's designs have been treasured by the cultured elite from the early 1920's when he stood aloof from fashion; consequently he has never gone out of style. His designs have endured as timeless works of art.  The novelist Marcel Proust described Fortuny as "faithfully antique but powerfully original". I had the opportunity to model a deadstock (retaining original price tag from the White House in San Francisco for $85.00) museum quality Fortuny Delphos dress in pleated apricot silk which sold last year at Michaan's Auctions for $5,400.00.
---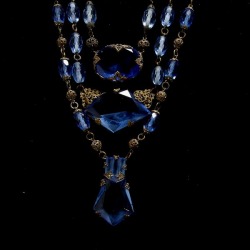 On the block September 5, 2010, are lots of Deco jewels. Layer them or wear a single strand. Dress them up or wear them with your favorite denim. These fabulous fakes are paste (faux diamonds) and that means you can get them for a song. Lady may sing the blues but you won't be when you bid on this lot of blue 20's glass necklaces. Wrap your neck in divine seductive blue hues like a sea goddess.
---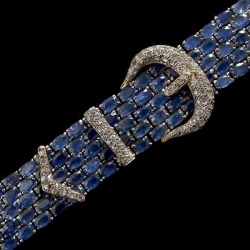 If you're feeling really blue, nothing picks you up like sapphires!  One hundred and eighty oval cut sapphires in a buckle cut motif accented by eighty eight, rose cut diamonds. This deco style bracelet is a statement piece that a glamour goddess would wear day and night. Bidding at Michaan's Auctions is easy and fun. It can be done from any where in the world, on the phone, absentee, or online.
---
Speaking of the Blues… Step out in vintage style at the Alameda Point Vintage Fashion Faire after party. It's a Mad Men theme and you'll dance your kitten heels off to the hopping New Orleans style Jazz band, Blue Bone Express at the Forbidden Island Tiki Lounge on October 10, 2010 at 6pm.
For more of my style tips and articles, read my monthly column Vintage Style Solutions in The Point magazine dedicated to helping shoppers integrate vintage items into their everyday lives, focusing on fashion, home decorating, shopping tips and entertaining with a collecting flair. Soon to be available on this site. Check back often. Stay fashionable in vintage.