Alameda Point Vintage Fashion Faire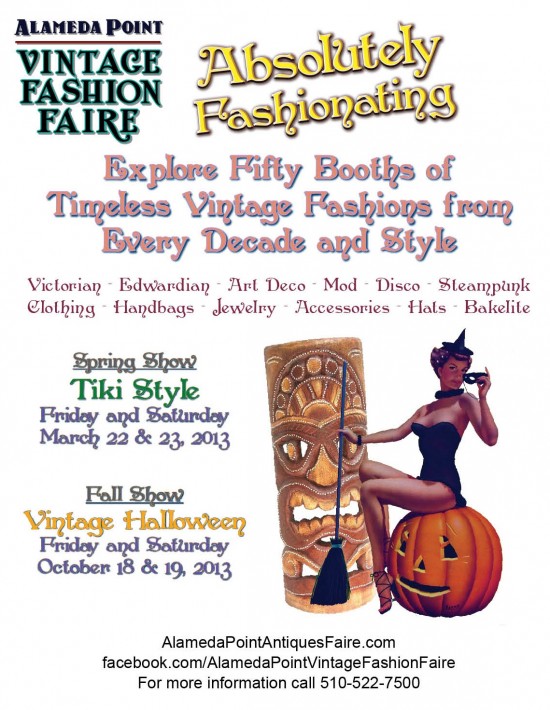 Next Vintage Fashion Faire: March 22 & 23, 2013 at the O' Club!
Shop for Vintage Fashion with 50 Booths of timeless fashions!
Come and experience a vintage fashion extravaganza with top dealers showcasing a wide array of women's & men's clothing, couture, jewelry, accessories, textiles, fine linens and more.  Don't miss this exciting event featuring timeless fashion from every decade including the Victorian & Deco eras, the fabulous 40's & 50's, and the glitzy 60's, 70's and 80's inspiring today's fashion designers.
TWO DAYS!
At the historic O' Club 641 West Red Line Ave, Alameda, CA 94501
2 Days! A special Friday evening event and an all-day Saturday, at the historic O'Club, 641 West Red Line Ave., Alameda, CA 94501.
** 3/22: FRIDAY NIGHT Shopping Preview & Early Buy
6pm – 9pm
*$10 ticket purchase readmits to the entire Saturday show beginning with the 10am early buy.
Vintage Tiki-themed Costume Contest at 8pm with prizes for all entries. Grand prize: $100 voucher good for any booth at the Faire.
Musical Entertainment:  Garden Island Blend
GARDEN ISLAND BLEND is a group of local boys from Kaua'i & Oah'u who transplanted to northern CA. Providing island style songs by local & classic hawaiian groups with a mix of oldies, classics & Top 40. GIB is known for their sweet vocal blends and play at Trader Vic's Tiki lounge regularly .
** 3/23: SATURDAY SHOW
EARLY BUY 10am – 11am, $10 (note: Friday night ticket option also includes admission to Saturday's early buy, regardless of whether you attend Friday night or not)
GENERAL Admission 11am – 5pm, only $5
Gourmet food & beverage provided by Pacific Fine Food.
The entire Saturday show is ALL AGES, 16 & under free with adult admission
Tickets available at the door, or pre sale through Brown Paper Tickets.
Vintage Dealers: Limited space available. Book Now!
Limited Space! Dealer Inquiries: Call Show Manager, Randie Bradley at the Antiques By The Bay office, 510-522-7500. Thank you!