We proudly announce a new venue for the fall Alameda Point Fashion Vintage Faire with a "Halloween" costume contest at historic Alameda Point.
The fall event will be held at Rock Wall Wine Company and is located on the former Alameda Naval Air Base, which was decommissioned in 1997.  This location is neighbors of our monthly Alameda Point Antiques Faire drawing over 10,000 shoppers and 850 booths every month and Michaan's Annex Auctions warehouse.
The etymology of the name: The name Rock Wall refers to the defensive perimeter wall built during WWII in the San Francisco Bay to protect the base from Japanese air to sea torpedoes. All military installations on the west coast created similar protective barriers. This wall is visible from this facility as well as elsewhere on the base. The wall has also been a popular fishing location for local anglers looking for striped bass
The fall Alameda Point Vintage Fashion Faire is a shopping lover's dream come true! Starting off with opening night Preview party/Early Buy on Friday, October 18th (which is THE time to go to get first pick!) There will be live music from West Coast Ramblers playing 30's & 40's tunes. Wine is for sale and will be poured by Rock Wall Wine Company (beer is available too). Saturday, October 19th (gets you a re-admit if you attend on Friday night) will be an all day shopping event. Local bloggers and the stylish fashion crowd dress up in Halloween costumes and flock to Rock Wall for the vintage hunt. Students with a valid ID get in 2 for 1 from 12PM-5PM on Saturday. Children under 16 are free with an adult's paid admission.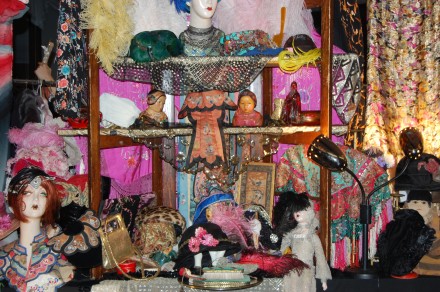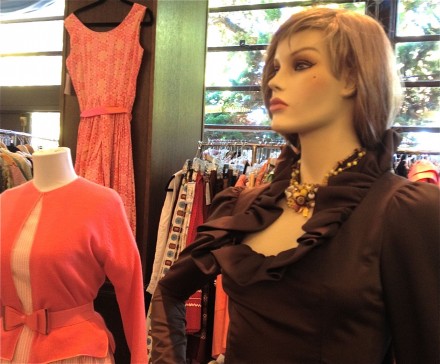 Vintage finds can be wearable, fashionable and even inspirational if you know where to go for the best frocks and baubles. With 50 top dealers, some who sell at the monthly Alameda Point Antiques Faire, there are plenty of vintage looks to choose from, and in every price range. All of the merchants bring a good range of clothing from every era.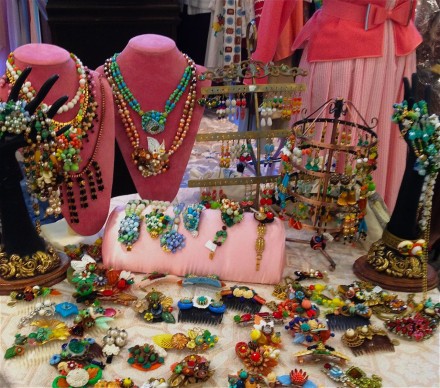 There will also be plenty of Halloween options to score for the upcoming holiday. Saturday's gourmet food will be provided by Pacific Fine Food catering.
Dress up in your best vintage costume and enter our Halloween costume contest at 8PM on Friday night with the Grand Prize a $100 voucher to shop the show and all contestants receive a prize.
If you missed our wonderful spring tiki event, please join us for our fall show at our new location, Rock Wall Wine Co. Friday, October 18 & Saturday, October 19 for your favorite vintage attire all in one indoor location.
It will be Absolutely Fashionating!