Alameda Point celebrates stars and stripes with history as a former naval air station. It was de-commissioned in 1997. That's when we started producing our outdoor monthly antiques faire on the jet runways.
From 1949 to 1953, the Navy based the Lockheed R6V Constitution—the largest airplane ever at NAS Alameda. After the base closed, the USS Hornet became a museum ship and is a popular attraction for Alameda Point today.
Alameda's 4th of July parade brings thousands of patriotic Americans to the hometown spectacle every year.
In 1916, President Woodrow Wilson issued a proclamation that officially established June 14 as Flag Day. In honor of Flag Day, we are celebrating 40's WW II style at our upcoming spring/summer semi-annual, Vintage Fashion Faire on Flag Day weekend 6/13/14 & 6/14/14. Our show will be held for the first time at Michaan's Annex Auction Showroom, a former airplane hangar adjacent to the antique show field.
40's WW II Style:
Looking good was essential for stateside women during the Second World War. In early 1940, marketing stressed the importance of women's appearance and their obligation of bringing beauty into every day family life. The ongoing theme 'beauty is duty' prevailed. Even beauty ads stressed the importance of wearing bright red lipstick & rouge, putting their best face forward to support their country.
When America went to war, it brought on many civilian shortages and substitution became a way of life in America causing rationing of supplies for the war effort. Anything using vast amounts of cloth or thought frivolous were not allowed, such as: Dolman, balloon and leg-of-mutton sleeves, aprons, overskirts, overly decorative trim, patch pockets and petticoats. Women during World War II typically wore head scarves, turbans, wedged-heal shoes (versus high heels), and the kangaroo cloak. Safety for women while working in the factory was a new standard in fashion.
The World War II era was known for cutting back: Nylons for stockings and materials for girdles were used to produce military materials rather than ladies' wear. Shoe rationing was another example of cutting back, as women in the United States were only allowed three pairs of shoes.
USO costumes worn to entertain the troops were equally minimalistic. The opulence of the Hollywood fashions before the war such as feathers or beading were streamlined to a simpler style. At the time, entertainers opted for a less extravagant wardrobe that still added sex appeal and glamour to the uniforms of the armed forces.
Nautical themes were ship-shape in USO costumes. Navy blue and white stripes adorned simple shift-like frocks that buttoned down the center.  The style of the pin-up included playsuits, shorts & crop tops and sometimes even a sailor's hat.
Some dresses were also accented with the sailor's collar, a square collar that lies flat across the back, while tying in a knot in the front. The pin-up girl's style became a sex symbol of the time for soldiers. Hollywood starlets, such as Rita Hayworth, Veronica Lake, Betty Grable, Lana Turner and Ava Gardner all had tasteful and sexy pictures in circulation to give the men a morale boost. Thus, the bombshell look was born. In many photos of the period, the women wore popular hairstyles of the time, one of the most popular being the "victory rolls," which was hair formed into two large rolls on either side of the head. This trend is a classic and enduring style that vintage collectors and swing dancers embrace today.
The Alameda Point Vintage Fashion Faire will have an early buy party on Friday night, 6/13/14 from 6PM-9PM with live entertainment by Tin Cup Serenade featuring singer Emily Ann Reed. There will be a "40's style, USO, WWII" costume contest with prizes for every entry, including a $100 voucher for first prize to shop the show. No host bar/wine, beer and gourmet food by our popular monthly food booth, Scolari's Good Eats. We will also be conducting a USO fundraiser to help support our troops and celebrate our nation. Admission is $10 (21+ only) including a re-admit to Saturday's Faire. On Saturday, 6/14/14, Flag Day, the indoor vintage fashion extravaganza is for all ages with a show of 50 booths of top dealers at this exclusive event.
Here's to stars & stripes forever!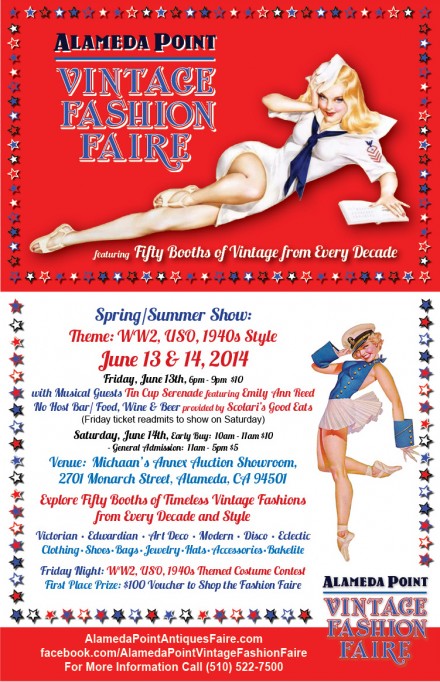 At Alameda Point, we celebrate vintage. Please join us for a weekend of style and vintage fashion in one of the most popular eras in our nation's history.