If designer fashion from beyond the grave is what fascinates you, you won't want to miss this special collection. Never shown at any other venue, this bounty is offered exclusively by our dealer Sally Farrell in booth #143 in the Main Ballroom at the Alameda Point Vintage Fashion Faire at the O' Club on Saturday, April 16th.
Violet Welles is the writer for the original Dark Shadows series between 1969 and 1970. She wrote over 80 episodes in total. The character of Violet Collins in Return to Collinwood may have been named for her. She was a couture fashion collector and the clothes offered here indicate that she may have worn them at one of the many Dark Shadows reunions.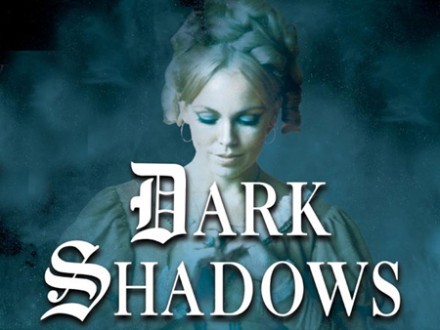 Dark Shadows
is a gothic soap opera that originally aired weekdays on ABC, from June 27, 1966 to April 2, 1971. The show created by Dan Curtis, tells of a dream he had in which a girl takes a long train ride to visit a large mansion. The story "bible," which was written by Art Wallace, does not mention any supernatural elements. It was unprecedented in daytime television when ghosts were introduced about six months after it began.
The series became hugely popular when, a year into its run, vampire Barnabas Collins (played by Jonathan Frid) appeared. Dark Shadows also featured werewolves, ghosts, zombies, man-made monsters, witches, warlocks, time travel (both into the past and into the future), and a parallel universe. Major writers besides Art Wallace included Malcolm Marmorstein (who created the character of Barnabas Collins), Sam Hall, Gordon Russell, and Violet Welles.
Now regarded as somewhat of a camp classic, it continues to enjoy intense cult status among its followers. Director Tim Burton and pop icon Madonna have both stated they are fans of the series. As a child, Johnny Depp was so obsessed with Barnabas Collins that he wanted to be him. He is collaborating with Tim Burton on a
theatrical film adaptation
, in which he will play Barnabas. Helena Bonham Carter & Michelle Pfeiffer are also starring in this film which starts production this month.
Here are some of the dreamy designers from Violet's vintage couture collection for sale in Sally's booth at the
Alameda Point Fashion Faire
this Saturday:
Chanel
Oscar de la Renta
Yves Saint Laurent
Geoffrey Beene-dress with guinea fowl feathers
Bill Blass
Valentino
Oleg Cassini
St. John
Couture dresses
Sonia Rykiel purse
Silver fox coat
…and more! I can't wait to see this collection. Maybe I can give you a sneak peak on Friday's dealer set up with my iphone camera and post it on our Facebook page, so be sure to 'Like' us & do check back!
For a bloody good time you must come to the Alameda Point Vintage Fashion Faire this Saturday. We don't bite… but we do have LOOKS TO DIE FOR!