Feel like taking a trip on an African safari but you don't have the time or the budget? Shop the Alameda Point Antiques Faire and go native for less.
Two months ago, it was almost as hot as the Sahara desert at the Point but that didn't stop antique treasure hunters to come out in droves for their shopping fix, braving the record heat.
Welcome to the jungle of the former jet runways where you can find plenty of options for the luxe-haute hippie vibe fit for any safari.
Linen is the go-to fabric for the sweltering temperatures and a wide brimmed hat to protect your skin from the elements with SPF 50.  Channel Meryl Streep in "Out Of Africa" for a classic film look that is timeless and elegant. Scour the aisles for Victorian lace, delicate gloves, and silk scarves.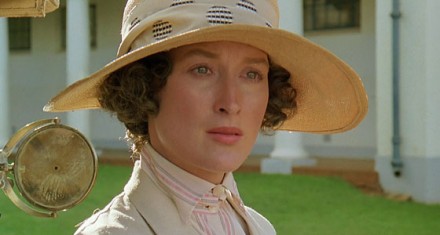 Meryl Streep in "Out Of Africa"
For the true adventurer, troll the faire for sheepskin rugs and Aztec prints. Shop for fringe shoulder bags, calfskin clutches, and macramé on a budget.
Don't forget feathers for your locks and frocks. Rifle through racks of vintage cut-off denim shorts which can be embellished with feathers & beaded trims.  Rock crystals & chunky jewels with natural materials like leather and woven beading, tie the look together.
For spring 2012, resort wear is in tribal mode. The Missoni collection features bold tribal prints that are colorful and Alexander McQueen's collection references the classic safari look with accents of leopard and beading. Create your own one-of-a-kind look for less by buying vintage.
Decorate your digs with dream catchers, large clusters of crystals, and butterfly taxidermy. Add antlers on the wall and graphic textiles, printed pillows, and animal skins to lounge in an exotic environment.
Be a true treasure seeker and add to your collection every month at the Point. Don't forget to shop for the best in boho-chic at the fall Alameda Point Vintage Fashion Faire on 10/21 & 22, where there will be 3 ballrooms filled with the best in tribal designs from the 60's & 70's.  It's a trip worth taking.
We'll have looks to die for… No weapon required, you Fashion Warrior you!