It's wedding season and many of my vintage loving customers have inquired about what to do when planning a vintage themed wedding. This was so popular in our printed version of "The Point" magazine, I am sharing it on my blog. I'm also a romantic so without further ado, I share some tips for evoking the timeless style of a bygone era on your wedding day.
One of the most popular themes for weddings at the moment is vintage. Any era you want to choose from the 20s to the 60s you can find plentiful resources to tie in with your chosen wedding theme. Let's explore a couple of my favorite eras:
1930's
Style was all about glamour in the 30's and cinema ruled the day. Think of the Golden Age of Hollywood. Be inspired by stars of the silver screen. If you live in a historical city like Alameda and can rent a ballroom to match the Deco style, you'll be inspired to add vintage design embellishments that were so fashionable in that era.  A wedding venue can play a big part in setting the desired period effect so do your research and look for examples of original Deco architecture.
The most exciting thing about planning a 1930's wedding is choosing vintage clothing.
Let's start with dressing vintage on your special day. The sleek, floor length, bias cut look is flattering to most body types and is still popular today. The details in a vintage bridal gown can't be affordably replicated. However, if you don't choose true vintage, you can opt for vintage accessories such as a beaded handbag, veil, headpiece, and jewels. All of these items can be found at the Point or the Alameda Point Vintage Fashion Faire.
The bridesmaids can also dress in 1930s inspired (or authentic) dresses. The look should be perfectly styled hair & flawless make up.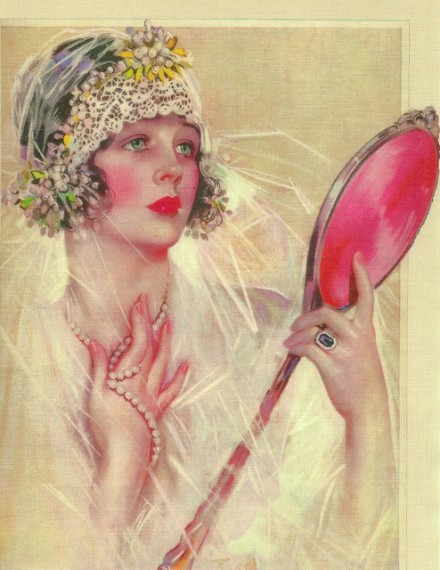 1950's
This era reflected a period of optimism and hope. This is an especially popular wedding theme today due to the fun and playful aspect of the era. Celebrity weddings exuding high society glamour included Grace Kelly, Audrey Hepburn, Elizabeth Taylor and Jackie & John F. Kennedy's wedding in 1953.  The dress shapes from that era appeal to a wide range of figures today. These fashions are more readily available and make perfect heirlooms.
Bridal fashion in the 50's was defined by the classic style of the day: nipped in waists and a full skirt.  Wedding dresses from this era are the most common due to the high demand during this decade.  Add playful accessories such as white gloves, pearl earrings or a vintage choker style necklace to complete the look. There is so much inspiration from this era that the sky is the limit. Look for cultural references to inspire you and rock around the clock on your 50's style wedding.
Tying it all together & tying the knot
A great way to tie in your vintage theme of choice is with little details. One item could be wedding cake toppers. Whether you want a custom made one that represents you both as a couple or a real vintage one, they are easy to find at the Point and affordable. They also make a great shower gift.
Whatever era you choose it will definitely be a day to remember for everyone who attends. It is a way of showing your love for vintage and incorporating it into one of the most important days of your life.