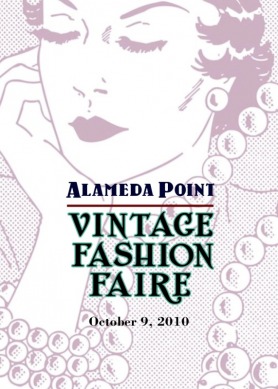 As the latest endeavor in my lifetime pursuit of glamour, I'm creating this blog to bring readers and shoppers of the Alameda Point Antiques Faire more ways to incorporate attainable, affordable accessories into their modern lifestyles with decorating and fashion tips. One of the highlights of my work as an antique show producer is getting to meet antique dealers who shop the globe, as well as designers who re-design vintage items to create products that are new and fresh, bringing them to to our buying public. I have the pleasure every month to discover amazing finds such as crochet dresses made from doilies and tiaras fit for a mermaid with gemstones and silver. My work in the entertainment industry has influenced my aesthetic and as an avid collector, it is my mission to share these timeless treasures with you.
Among the features to expect from my posts will be videos and photos as well as articles integrating the latest in fashion steals & deals. I will share scores I find at the faire and show you vintage styling tips.
Also, I'm pleased to announce that we will once again be producing the Alameda Point Vintage Fashion Faire: Fashion & Fantasy By The Bay on October 9, 2010 — an indoor vintage fashion extravaganza with over 65 booths of women's & men's clothing, designer couture, jewelry, accessories, textiles, fine linens and more. Don't miss this exciting event featuring timeless fashion from every decade including the Victorian & Deco eras, the fabulous 40's & 50's, and the glitzy 60's, 70's & 80's inspiring today's fashion designers. If you need a Halloween costume, this is the show to shop. Dealers will feature drag queen attire and witchy, gothic garb. (See the "What's New" page for some photos of previous shows). This event will be a perfect time to stock up on your holiday gift giving baubles and plan out your retro glittery attire for the party season.
Please check back often and stay stylish in vintage.