Dear Antique Faire Enthusiasts,
The Wet Weather Continues – Once again, on Sunday March 6 we were subjected to another in the seemingly endless series of rainstorms targeting the 1st Sunday of the month. The big difference this time was the inaugural event of our new Rainout Rollover Policy. All the forecasts were predicting solid rain throughout Sunday, so on Saturday morning March 5th, I cancelled Sunday's Antique Faire and scheduled the makeup event for the following Sunday, March 13. Our makeup show was a resounding success even though there were predictions of rain (again!) late in the day, and the weather was somewhat chilly and cloudy. Over 400 vendors attended and almost 4,000 customers came to shop. Overall it was a great makeup show and it will only get stronger from here.
Please Sign Up For Email Updates! – Please read about the Rainout Policy and keep it handy so you know what to expect the next time the forecast is predicting heavy or persistent rain. Please sign up for email alerts on our website and let your friends know about it too. It is very easy to do. We want to encourage everyone who attends the faire to sign up so that no one misses a rescheduled faire. Copies of our Rain Policy flyer are available at the show office trailer as well as the box office. We thank everyone who attended our first Rain Rollover day last Sunday and supported this policy.
Vintage Fashion Faire – Save the date! It is Saturday, April 16th. We have sold out dealer spaces for this event, but due to demand we just added two additional rooms, which will allow 13 more vendors. Once these booths are booked there will be absolutely no more vendors accepted. The new location for the Fashion Faire is the "O" Club on West Red Line Avenue, 1⁄2 block from the main gallery of Michaan's Auctions.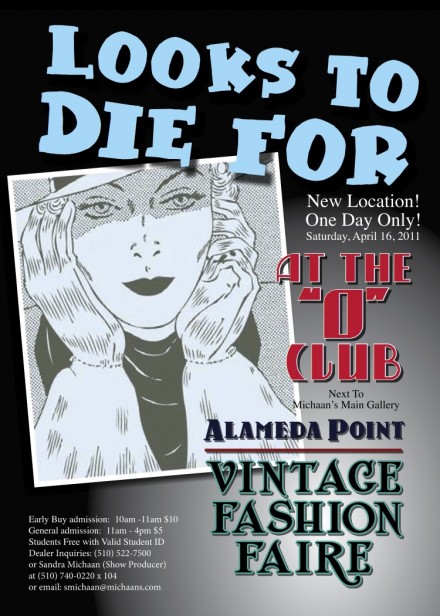 Plans To Improve Parking and Box Office Lines – We have relocated our Vendor Helper parking to the back lot to help us provide more parking for our show attendees. Customers will find more spaces available and will be able to cycle through the lot to find parking as spaces open up.
Our NEW 10-Admission Show Ticket for General Admission Only – will be available for purchase through the show office in May. Customers will present the ticket at the gate to get a punch for the show they are attending. We expect this to help relieve the wait in box office lines and also make great gifts! These pre-paid tickets will not have an expiration date.
In response to some misconceptions, please be advised that The Alameda Point Faires are not affiliated with any other shows.
We look forward to seeing the long awaited arrival of spring and the end of the rainy season. We hope that April 3rd rewards us all with sunshine and fair temperatures. We'll see you then!
Best regards, Allen Michaan