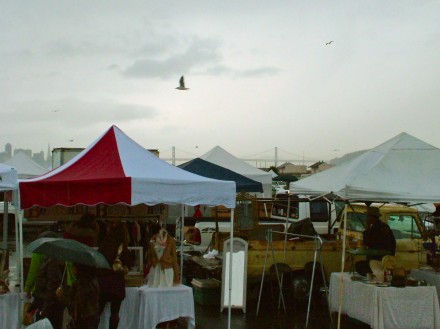 We are happy to welcome all of our dedicated Antiques Faire shoppers and dealers to our December 2010 Faire, which is our 148th show!
We were all very disappointed on November 7th to have our monthly event completely rained out. We know that our shoppers really look forward to the faire and for many of the antiques vendors, Alameda Point has become the most important show at which they sell. In fact, many of our vendors set up exclusively at Alameda Point. Because of the importance of our event to so many people it is very upsetting to have the show rained out as occurred last month. (Be aware however that even if it rains, the monthly Estate Auction at Michaans Auctions still commences at 10:00 a.m. and the Annex Auction Gallery will still be open from 9:00 a.m. to 5:00 p.m. for a preview of the Annex Auction that will be held on the following Tuesday and Wednesday).
More often than not, on the following Sunday it is not raining. Last month the following Sunday (November 14th) had absolutely glorious weather. All day long I found myself asking, "Why couldn't we have had this weather last Sunday?"
Well, we won't let that happen to us again! We are establishing a new Rollover Show Date Policy. If a show is rained out, we will automatically schedule a make-up show for the following Sunday, the second Sunday of the month. Look for your favorite dealers in their regular spots, as most of them will be there. We give our dealers a rain check credit so they do not lose their booth rent on a rainy day, it is applied to any future show of their choosing or refunded upon request.
The creation of a Rollover Date is very important to our business at Antiques By The Bay since we incur the same expenses all month long and perform almost a complete pre-show set up even if rain is predicted. This new policy will allow us the opportunity to break even for the month instead of suffering a major loss. Rollover Date information will be prominently posted on our website on the day following a rained out show. As well, the date will be announced on our recorded information line at 510-522-7500. And you can sign up on our website to receive email alerts and updates about the show along with reminders of upcoming shows and any Rollover Dates.
SO IF IT RAINS, WE HOPE TO SEE YOU ON THE 2ND SUNDAY OF THE MONTH!
If it rains on the 2nd Sunday we will NOT have another rollover for that month. We will all have to wait until the first Sunday of the following month to get our Faire fix.